Philosophy of Care – Larsen Dental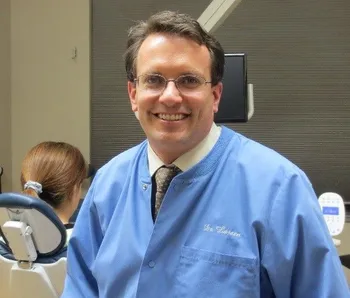 Different patients have different desires and different expectations when it comes to their oral health care – and we get that! My most important responsibility as a health care provider is to listen and understand each patient's desires before rendering any care. My goal is to help each patient to achieve the highest level of oral health care possible, based on the patient's own individual goals and desires. I recognize different people will have different desires. We also understand and respect that financial and insurance factors are an important consideration for many patients. Our purpose is to help each patient achieve the level of care that is right for them.
A second goal is to be "user friendly" in how we deliver our dental care. I teach my team members to "think like a patient." This means we anticipate questions and concerns. It means simplifying dental care options and explanations so that our patients can understand their choices before starting dental care. It means from "hello" on the telephone phone, through treatment planning, through treatment delivery, and finally through settling on the finances, we have knowledgeable, friendly, and competent staff members leading our patients through the process with no surprises along the way!
In our practice, we believe patients have a right to understand and make informed decisions about their oral health care and about what treatment is appropriate for them. Many patients have found the following guidelines helpful in communicating the level of dental care they would like:
Levels of Possible Care

Level 1: Urgent Care
Patients at this level choose treatment only when they experience a dental emergency such as pain, swelling, or bleeding, that requires immediate treatment. Urgent care patients are generally not focused on taking steps to ensure future urgencies do not occur. They come to the dental office when they know they have a major problem to deal with, and the condition has developed to a point of urgency in order to control pain or save the tooth.
Level 2: Corrective Care
Patients at this level choose treatment for obvious problems such as broken or cracked teeth, cavities, sensitivity, discomfort, or concerns that are creating issues in the mouth right now. Corrective care patients are usually not focused on taking steps to prevent new concerns or improve their health over time. They only want to deal with concerns that have already developed into conditions that require treatment to remove existing disease or repair the teeth back to the most basic level of health.
Level 3: Proactive Care
Patients at this level seek treatment for existing concerns just like corrective care patients, but they are also concerned about conditions that may likely create problems soon. These patients generally want to maintain the health of each tooth at a basic level, so they also do what they can to prevent new concerns from developing. When treatment is recommended, proactive care patients usually prioritize their treatment to manage their costs, but still take care of things soon enough so that known concerns are less likely to develop into major problems and more costly treatment in the long run.
Level 4: Complete Dentistry
Complete dentistry patients are concerned with being confident they are taking every step possible to maintain their teeth and oral health for their entire life. They want to know their full treatment options so they can become and remain healthy as possible, thereby minimizing long-term dental costs. These patients often choose a step-by-step master strategy that is focused on restoring their mouths to an optimum level of health. They are also focused on prevention and regular care to achieve long-term dental health and improved appearance of their smile over time. Complete dentistry may also include optional esthetic dentistry as well.
It is not uncommon for people to being at one level and progress to higher levels when they are ready. We are here to help you discover what is right for you so your teeth, smile, and mouth remain as healthy as they can be for life based on you your own individual goals.
A Simple Formula For Talking About Treatment Options
For people with complex dental problems there are always multiple options available to them. That is both the good news, because it's nice to have multiple options to meet different people's needs/wants, but it is also the bad news, because things can get complicated to explain and understand. Over the years, I have found it is often helpful to patients with multiple treatment options to break the potential treatment into three broad categories - MUST DO, SHOULD DO, COULD DO.
Must Do:
This includes treating conditions which are painful or causing active destruction. Left untreated, these conditions could damage your overall body health and lead to more extensive and costly dental care in a short time. Examples include Pain, Swelling, Infection, active decay, sever gum disease, severe cracks in teeth.
Should Do:
This includes treating conditions that proactively minded patient would like to know about and would like to address from a prevention standpoint. Although there is no active destruction occurring necessitating treatment, it is likely the condition will only continue to get worse if not address very soon. Examples include teeth with large fillings that are breaking down or leaking, teeth with moderate cracks, replacing missing teeth that are jeopardizing other teeth.
Could Do:
This includes optional treatment, which may prolong the longevity of your teeth, improve the appearance of your smile, or improved chewing efficiency. Examples include Night Guards, Partial Dentures, Dentures, Replacing Missing Teeth, Esthetic treatment options.
In the end, our goal and our professional satisfaction comes from treating our patients well and providing them the level of treatment consistent with their goals. We look forward to working with you!